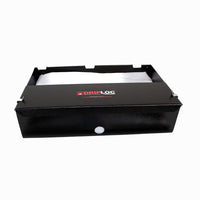 4 Inch Rack Grease Containment System Installation
Economical grease containment rack systems
3 sizes available for low to high volume discharge
Grease pillows catch grease while allowing water to pass through
FREE SHIPPING
The 4 inch Rack Grease Containment System is versatile, easy to install, and adapts to various exhaust fans. The custom manufactured filter, or "pillow", fits inside the rack.
The rack has a built-in drain that allows water to pass through the system at a high volume. After the initial installation of the rack system, only the grease pillow needs to be replaced. That can be done during regularly scheduled hood cleanings depending on the volume of the restaurant.
The 4 inch Rack System comes ready to install and includes a mounting holder and deflector shield.
For high volume / high grease producing fans, consider using the 7 inch Rack Grease Containment System.

18" x 12" x 4"
(1) absorbent pillow included 
We have available:
Case of 1, 2, 4, 8, 12, and 24. The more you buy the more you save.