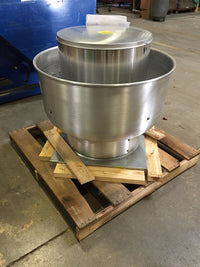 This is a brand new, heavy-duty, belt-driven "beast" of an exhaust fan. Quiet operation, extreme efficiency and premium performance are just a few characteristics that make our Power Ventilators THE MOST TRUSTED EXHAUST FANS ON THE MARKET.
Centrifugal Upblast fans are designed to discharge air directly up, up and away from roof surfaces...making them a superior solution for restaurant applications.
Belt Drive Centrifugal Upblast Exhaust Fan with 11.75" wheel and 21"x 21" base.

Exhaust Fan handles 1000 CFM @ -0.700" wc ESP, Fan runs at 1506 RPM
Exhaust Motor: 0.500 HP, 1 Phase 115 V, 60Hz, 8.0 FLA, ODP (Open Drip Proof)
AMCA Certified
UL762 Listed
Warranty:1 Year Manufacturer Warranty to be free from defects in materials and workmanship, under normal use and service.