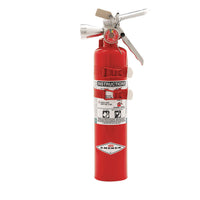 PRODUCT DETAILS
EPA-approved for Class A, B, and C fires, the Halotron rechargeable fire extinguisher can help fight flames caused by dry combustibles, flammable liquids, and live electrical equipment. It contains a liquid chemical solution that rapidly dissipates and leaves no residue.
TECHNICAL SPECS
Item

Fire Extinguisher

Extinguisher Type

Halotron

Class

ABC

UL Rating

2B:C

Capacity

2.5 lb.

Extinguish Agent Type

HydroChloroFluoroCarbon

Height

15-1/2"

Diameter

3"
Cylinder Material

Steel

Operating Pressure

100 psi

Discharge Time

9 sec.

Range Max.

8 ft.

Bracket Included

Vehicle

Valve Material

Metal

Standards

ANSI/UL,EPA