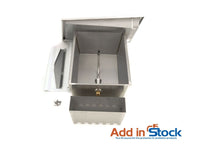 The Exhaust Fan Interceptor 360™ (EFI™) is designed to capture fats, oils, and grease without the need for power or a filter medium. The patent-pending  EFI™ is the only product on the market that not only processes rainwater, allowing it to escape freely but facilitates wash water to recover during servicing.
Each unit will:
Prevent 600 gallons of caustic chemicals from entering the storm system per year (Based on a quarterly exhaust cleaning schedule)
Allow unlimited amounts of rain to escape the fan without flooding grease onto the roof
Prevent early roof replacement
Keep your roof and area presentable for fire inspections
Prevent oil tracking /spreading
Be Fire Safe
Digest and handle all the grease you can possibly cook up
Will capture grease release from exhaust fans – all types of fats, grease, and oils will be captured and allow only water to escape
Will work in all weather conditions
Built to last a lifetime
Material SX 304 Stainless steel – 17 Gauge (0.058′)
Oil receptacle capacity 1 gallon (4 liters)
Liquid Capacity 7.1 gallons (27 liters)
Maximum Oil capacity before the failure of 6.1 Gallons (23 liters)
Each unit delivered includes:

Adjustable mounting plate
Deflection plate
8 pieces of self-tapping screws
This is an Omni earth-friendly product. Proudly made in the USA.