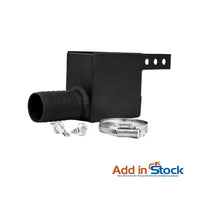 The Driploc Horizontal Drain Adapter is used to adapt to various exhaust fans in the industry. For best results, grease should be directed to fall into the middle of the filter/pillow. The adapter allows grease to get past the fan base to hit into the grease containment system. 

Designed to help direct grease to the rack system. Connects to "U" shaped drain spout to add length for drainage.  Made to allow PVC Hose connection for additional length (hose not included).
1-1/4 Inch Diameter
We have the three type of fan drain adapter:
Driploc Horizontal Drain Adapter
Driploc Vertical Drain Adapter
NOTE: in some cases, hose extensions are needed. These adapters are also used to plumb the DRIPLOC Pail Filter System.


 WARNING: This product can expose you to chemicals including Cobalt Metal Powder and 1,3,5-Triglycidyl-s-triazinetrione, which is known to the State of California to cause cancer. For more information, go to www.P65Warnings.ca.gov.